15 July — Must See Educational Video

This is so good it had to be on our news page. Could every client please watch it before commissioning us! For further education please also watch this one.
13 July 2013 — Big Studio Jumble Sale on now!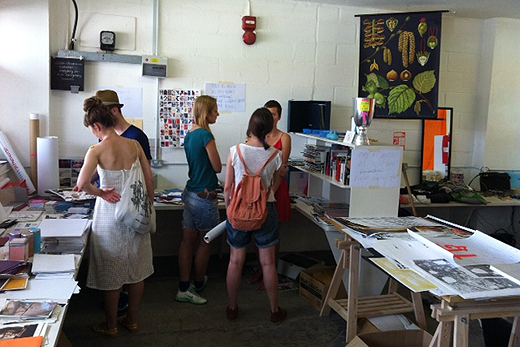 Come along to our big studio jumble sale. Its on today and tomorrow only!!! Everything must go. Super cheap or pay what you want!
28 June 2013 — Big Studio Jumble Sale coming up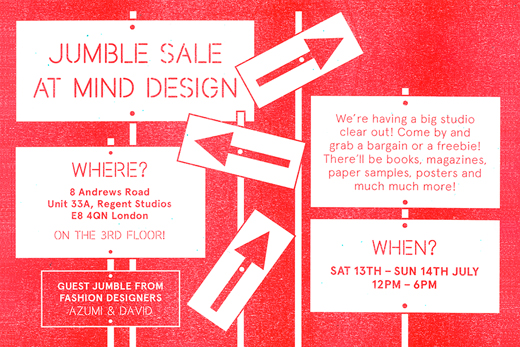 We spent the past few months sorting out the studio. Now we are selling or giving away everything we don't really want to keep anymore: books, prints, samples, equipment, etc. Please pop in and visit our big Jumble Sale and freebie give away on Saturday the 13th and Sunday the 14th of July. The Jumble Sale will be joined by our friends from the second floor Azumi and David (A'N'D).
18 June 2013 — Big Studio Clear-out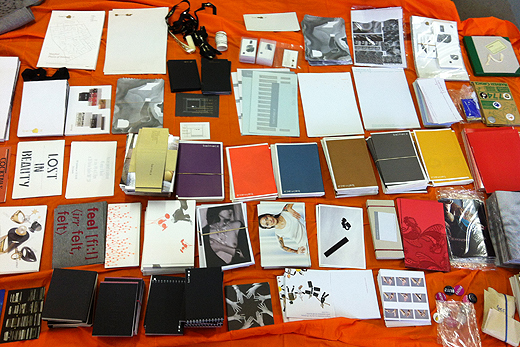 We are having a big studio clear-out and are organising all the work samples from the past 15 years. Impressive how much work there is just for Belmacz alone all laid out on the floor.
11 June 2013 — Crowd Talk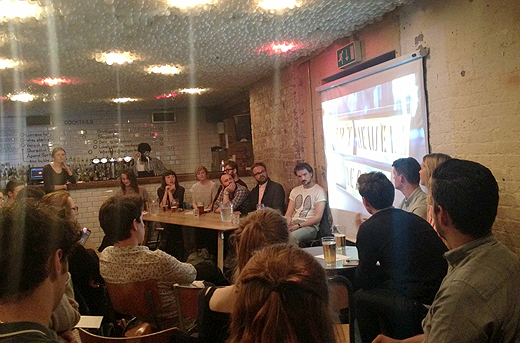 Romilly was invited to talk about our position on internships at the Crowd Talks event that took place at the The Book Club. Thanks to everyone who came. We hope it was interesting.
08 June 2013 — 20PlusX Summer School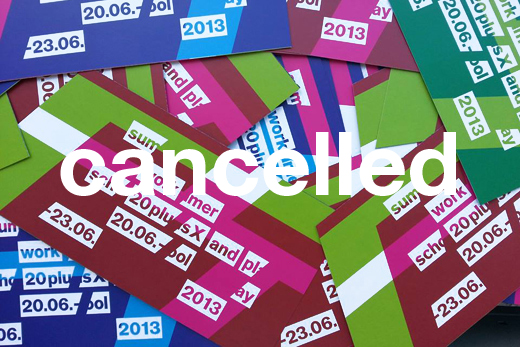 Holger will be talking on 20th of June at the 20PlusX Summer School in Munich, Germany. If you are in the area come along. He will also do a 3 day workshop. The results will be exhibited on the 23rd of June.

Correction: I just heard from the organizers that the date of the event has been changed to the 24–27 of October. So no Bavarian beer and sausages at this time.
08 June 2013 — Job Update

We received a lot of applications for the job we have at our studio. We are looking through all of them now but its taking us a bit longer than expected and on top of that Romilly's computer with all the applications on there just died (don't worry, we are getting it fixed and none of the data will be lost). If you applied for the job please be patient we will contact you soon if we like to meet you.
03 June 2013 — Field Trip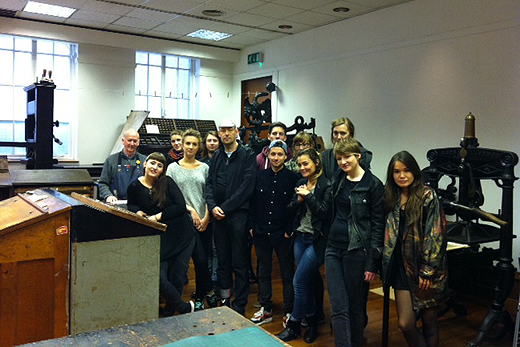 Holger's German students came over to London for a one week typographic research trip. We looked at public lettering mostly in pubs, visited the East End markets, shops and restaurants. We also visited St. Brides Library and Christian Küsters showed us the new gigantic Central Saint Martins building. We met with great designers such as the fantastic Morag Myerscough, traditional signwriter Peter Hardwicke, Alex Bettler from Modern Activity, big scale type designers Dalton Maag, typography legends Phil Baines and Catherine Dixon, our friends from Julia, and letterpress monster Ian Gabb. A good week with some serious typographic milage and a lot of walking.
May – Join a Winning Team!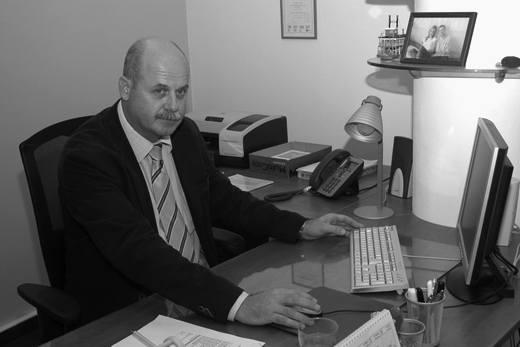 Well, that rare event which only occurs once in a million years is happening again: we actually have a real job to offer, properly paid, no internship, serious responsibility. However, we will be very, very, very picky. (The position has now been filled.)
09 May 2013 – Student Visit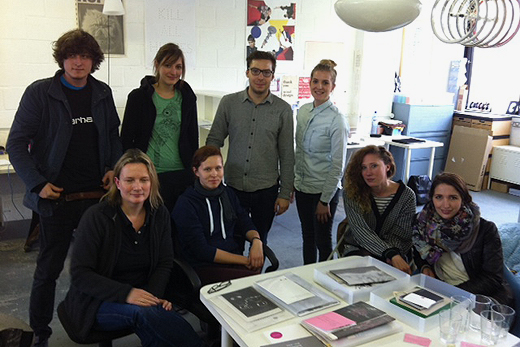 Today a group of students from the University of Würzburg in Germany visited the studio.
1 2 3 4 5 6 7 8 9 10 11 12 13 14 15 16 17 18 19 20 21 22 23 24 25 26 27 28 29 30 31 32 33 34